Invest in Archcafé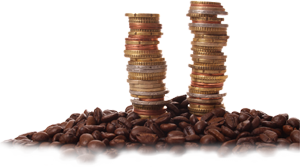 Archcafé is the company to invest in for all coffee-lovers that want to become a partner of our professionally built company. Coffee holds a massive market sale of 100 billions USD every year from 25 billion cups of coffee, becoming the second-most traded commodity in the world. Grown in over 50 countries including: Asia, South America, Central America and the Mediterranean, 25 million farmers around the world rely on income generated from growing coffee. Vietnam is the world's biggest coffee exporter with 1.5 million tons per year, and also the big coffee consumer in the domestic market. According to the forecast, a well-known brand in canreaches up to 10,000billions USD per year, and instant coffee counts for 5000 billions in that total. It makes coffee one of the strongest commodity to invest in for the highest return and stable profit.
Archcafé is a creative brand with breakthrough products such as Archcafé Coconut Cappuccino, Archcafé whole bean coffee for Espresso (100% premium Arabica) and Vietnamese Iced Coffee (70% Robusta and 30% Arabica), Ready Brewed Coffee with condensed milk, and many other unique products. Our mission is to bring authentic, healthy, and quality Vietnamese coffee products to consumers in Vietnam and international countries. Keeping our principles of "roasted by hand, brewed by heart", we will always create high-quality coffee to expand sales and improve company value for our shareholder.
For more information,please contact:
Mr Tim Nguyen
Brand Director
Archcafé – Authentic Vietnamese Coffee
Email: TimNguyen@archcafe.net
Address: 23 Phung Khac Khoan, Dist. 1, HCMC.
Website: www.archcafe.net